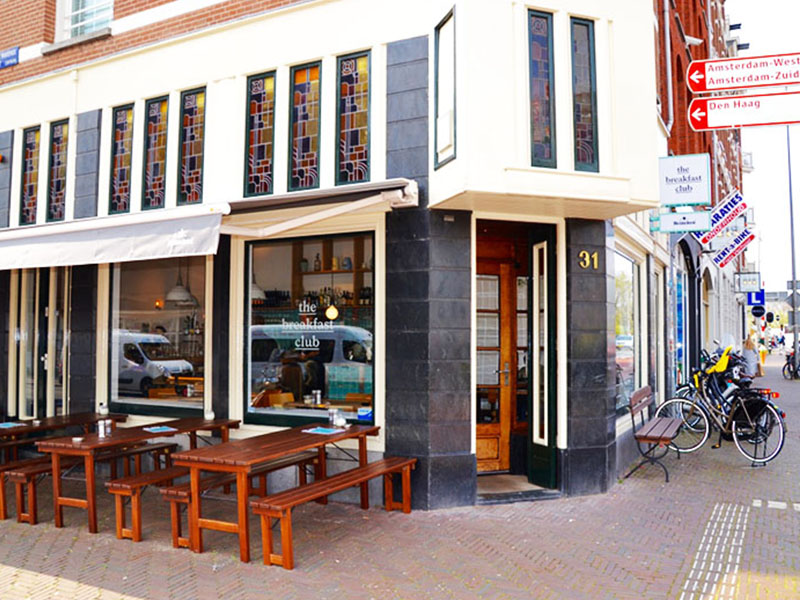 We love all day breakfast! Ruim een jaar geleden opende The Breakfast Club voor het eerst haar deuren als nieuwe hotspot in Amsterdam West. Sinds een aantal weken werd er tevens een tweede locatie geopend! In tegenstelling tot de eerste locatie, kun je bij deze locatie ook terecht voor diner! Hoe leuk is dat? Benieuwd naar de nieuwe The Breakfast Club? Lees dan snel verder!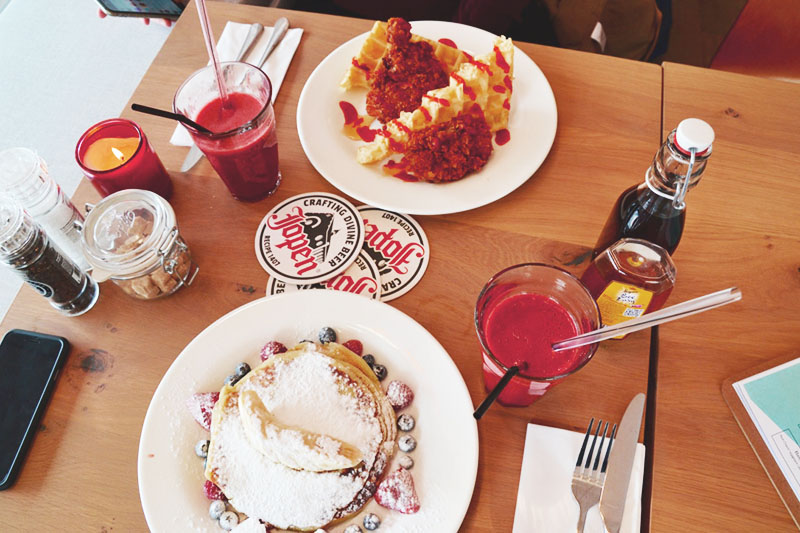 Ontbijt is de belangrijkste maaltijd van de dag. Tegenwoordig wordt het steeds populairder om goed en uitgebreid te ontbijten. Daarom komt het steeds vaker voor dat je in restaurants de hele dag kan genieten van een goed ontbijt. The Breakfast Club is hier wel echt een topper in! De heren van Bar Brouw (in Amsterdam Oost) hebben de perfecte move gemaakt om ruim een jaar geleden een allday breakfast restaurant op te zetten. Vanaf nu is er een tweede locatie geopend op het Haarlemmerplein.
De hele dag ontbijtjes en lunch met verse smooties of een goede kop koffie kan hier dus allemaal. De gerechten zijn geïnspireerd door de stijl uit Parijs en New York. Wat voor gerechten kunnen we dan verwachten op deze menukaart? Van croissants met jam tot muesli en van een goed belegd eitje tot een hotdog. Erg gevarieerd dus en voor ieder wat wils! De American pancakes kunnen natuurlijk niet ontbreken en deze zijn hier zelfs tot middennacht te bestellen! Zeker een aanrader!
The Breakfast Club Haarlemmerplein is dus na de lunch open ook gewoon open voor diner en heeft ook daarvoor verschillende heerlijke gerechten en snacks. Niet geheel onbelangrijk, er zijn ook cocktails aanwezig! We like!
Good to know
De 'nieuwe' Breakfast Club bevindt zich op de hoek van het drukke Haarlemmerplein op nummer 31. Ze zijn van zondag t/m donderdag geopend van 8:00 uur – 00:00 uur en op vrijdag en zaterdag van 8:00 uur – 2:00 uur. Wanneer je klaar bent na een dagje shoppen in Amsterdam is dit de ultieme plek om nog even een hapje te eten voor je de trein weer instapt! Woon je in West en had je The Breakfast Club daar nog niet ontdekt? Deze bevindt zich aan de Bellamystraat 2-h, vlakbij de Foodhallen. Deze locatie is alleen geopend voor ontbijt en lunch van 8:00 – 16:00 en in het weekend een uurtje langer tot 17:00 uur.
Wanneer probeer jij een ontbijtje bij The Breakfast Club?
Dit artikel is geschreven door Raechel Chotoe
Bron: The Breakfast Club
Bron beeld: The Daily Dutchy – Raechel Chotoe
Volg The Daily Dutchy ook op Facebook, Twitter, Pinterest en Instagram!
X The Daily Dutchy X
© 2015 The Daily Dutchy Tekst en Fotografie - All rights reserved