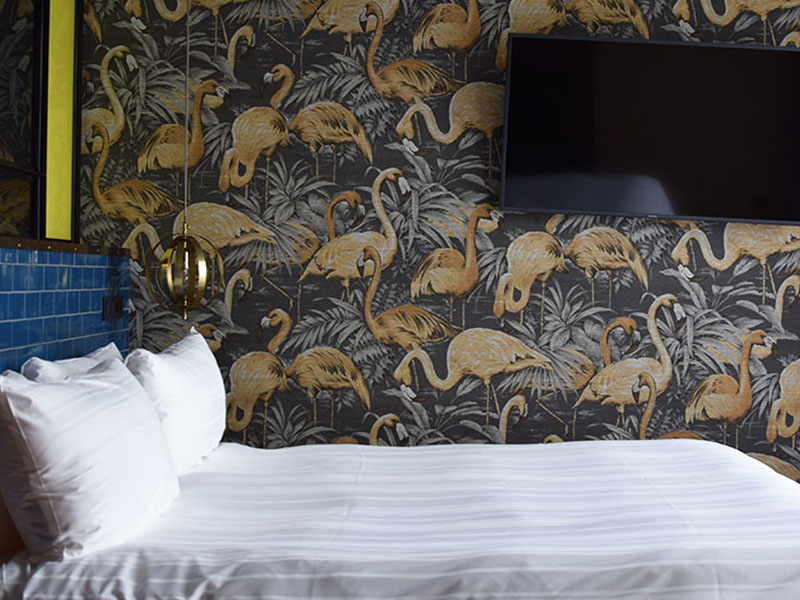 In onze rubriek 'The Daily Dutchy logeert' nemen wij je mee naar verschillende mooie hotels. Zo testen wij uiteraard de bedden en proeven wij de sfeer van het desbetreffende hotel. Waarom moet je hier bijvoorbeeld een keer gelogeerd hebben? Of waarom is een ontbijtje, lunch of diner bij dit hotel een absolute aanrader? The Daily Dutchy know's best! Deze keer is het gerestylde Apollo Hotel in Amsterdam aan de beurt. Benieuwd naar dit hotel? Lees dan snel verder en bekijk de mooie foto's!
Dit keer weer logeren in eigen stad. De vorige keer namen wij je mee naar Pillows Anna van den Vondel. Dit keer is het gerestylde Apollo Hotel aan, jawel de Apollolaan in hartje Amsterdam Zuid aan de beurt. Het blijft leuk om met een tas op de fiets te stappen en in hotelsferen te belanden.
Apollo is onlangs gerestyled door Will Erens van Too Many Agencies. Zo is een deel van de hotelkamers gerenoveerd naar maar liefst 33 design kamers en 16 luxe design suites. Samen met Karine van The Digitalistas verbleven wij in zo'n gerenoveerde design kamer en in twee woorden is deze kamer: stylish & sexy. Vooral sexy, door het slangen rode behang. En stylish door de design items in het interieur. Een kamer, die je thuis zeker niet zo zal inrichten… Maar die wel een lekker een nieuwe kijk geeft en echt zorgt dat jij je in een nieuwe omgeving bevindt.
Deze sfeer ervaar je evenals in de lobby van het hotel. Waar je warm ontvangen wordt in een oase van planten. Een jungle vibe, die past bij het hippe interieur. Als je richting het restaurant loopt kom je eerst in een 'huiskamer' sfeer terecht, die mij doet denken aan Frankrijk. Lees: macarons, marmeren tafeltjes, een warme openhaart en een vitrine vol croissants.
In het Apollo Hotel vind je tevens naast de prachtige lobby ook The Harbour Club en als nieuwste aanwinst van Amsterdam restaurant "Bodon, La Grande Brasserie."
Uiteraard kun je in het hotel en restaurant ook genieten van een heerlijk en uitgebreid ontbijtbuffet en verse koffie.
Restaurant Bodon La Grande Brasserie
Bodon biedt fine dining met een traditionele Franse Keuken in een moderne verpakking. Precies deze omschrijving ervaar je dan ook. Het kosmopolitische restaurant doet je dan ook echt denken aan oui, oui Paris. De naam komt van de architect van Apollo Hotel Amsterdam, Alexander Bodon, maar is tevens ontworpen door Will Erens.
Traditioneel is het restaurant zeker en zo eet je dan ook niet elders. Zo bereidt Bodon met liefde  'canard à la presse' aan tafel en kun je genieten van 'Fruits de Mer' en Bouillabaisse. Uiteraard onder het genot van een bijpassend wijntje van de wijnkaart. De fijne en beleefde service in het restaurant is dan ook echt een aanwinst. De foto's liegen er niet om!
Good to know
Hotel Apollo en restaurant Bodon vind je aan de Apollolaan nummer 2 te Amsterdam. Uiteraard ben je hier ook van harte welkom om te ontbijten of te dineren in het restaurant. Meer informatie over het hotel vind je op de website van Apollo.
Was jij al bekend met Apollo Hotel & Bodon?
Bron beeld: The Daily Dutchy – Vivian Secrève
Volg The Daily Dutchy ook op Facebook, Twitter, Pinterest en Instagram!
X The Daily Dutchy X
© 2017 The Daily Dutchy Tekst en Fotografie - All rights reserved